Welcome to BATTLE PROS
Register now to gain access to all of our features. Once registered and logged in, you will be able to create topics, post replies to existing threads, give reputation to your fellow members, get your own private messenger, post status updates, manage your profile and so much more. This message will be removed once you have signed in.
Login to Account
Create an Account
Main - Battle Pros Home
We are 2,067 people and we have posted more than 20,747 messages!
Recently discussed forum topics:
Today, 10:45 AM
The Asus Chromebit
packs a lot of computing power into a little itty bitty form factor and a sub-$100 price point: Plug this stick into any display with an HDMI port, like most big-screen TVs nowadays have, and suddenly you have a Google Chrome desktop at your disposal.
It has uses limited only by your imagination. Like:
Upgrade an existing PC by plugging this into the monitor.
Use it for art projects or to build interactive displays using cheap TVs.
Google cites the example of a retail store that can use it to manage all of their digital signs, changing a sale on shorts to a sale on umbrellas instantly once it starts to rain.
It has a swivel head so it'll fit into more nooks and crannies, and you can use it with Bluetooth mice and keyboards. It uses a super-small ARM processor of the kind you normally find in a cell phone, so it doesn't really heat up. It has 2GB of memory and 16GB of storage, like most other Google Chrome devices. It even comes in multiple colors, for the style-conscious.
The big caveat, depending on how you use it, is that it uses Google's Chrome OS, which is basically just a web browser. So while it'll run apps like Spotify, Netflix, and Microsoft Office 365 over the web, and will soon run some Android apps too, you won't be playing Call of Duty on it any time soon.
The whole computer-on-a-stick thing has been done before, but never really well. The Dell Wyse Cloud Connect is a $129 Android stick that does roughly the same thing, but it's explicitly for business users and unavailable on the direct market. Similarly, the Dell Cast is an Android stick that costs only $80, but will only work in conjunction with a Dell tablet — it's more more Chromecast than Chromebit.
Intel's soon-to-arrive $149 Compute Stick is going to be the most direct competitor to Chromebits, running Windows 8.1. Google's pitch has always been that the browser-based Chrome OS devices is the better, faster and simpler for low-horsepower computers like these sticks, and Windows can't keep up. Not to mention that the Asus Chromebit will be at least (they haven't announced final pricing yet) $50 cheaper.
Either way, the squeeze is on. Whoever can do more computing with less computer at the cheaper price point is poised to win this brewing tiny device war, and the Asus Chromebit is, at the very least, a shot across Microsoft's bow.
Read more
:

http://www.businessinsider.com/google-chromebit-tiny-computer-on-a-stick-2015-3#ixzz3W5mxdRGB
http://chrome.blogsp...r-everyone.html
Yesterday, 03:03 AM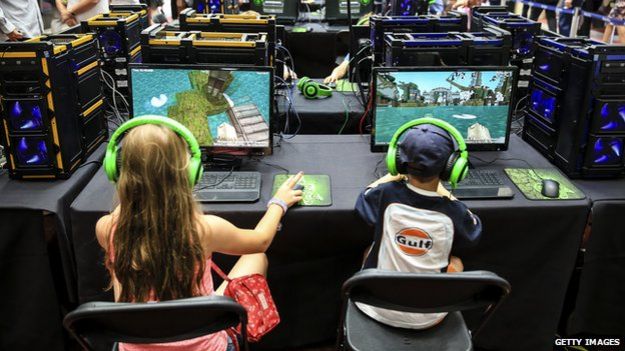 In the space of a few years, the computer game Minecraft has come to dominate the spare hours of millions of children, and has even entered the classroom. But is this an entirely good thing, asks Jolyon Jenkins.
If I want to irritate my 13-year-old son, Joe, I refer to Minecraft as "digital Lego". He grew out of Lego a long time ago.
But that's what Minecraft is - a computer game in which you build things using cubic blocks. But it's Lego on steroids. You never run out of blocks and they never topple over. You can walk among your own creations, and play online with other people who are in the same world.
Sometimes, monsters come out after dark to try to kill you, which is never pleasant, but compared with games like Grand Theft Auto and Call of Duty, Minecraft is innocent, peaceful, and pretty wholesome.
So why does it drive so many parents to distraction?
"It's all consuming," says Gabrielle Wacker, of her 11-year-old son Arthur. "It's become a way of life. He would be on it before school given the chance. I've had to hide the device in the morning."
Her biggest worry, she says, is that it reduces his interest in the real world. "He doesn't do any clubs any more. At weekends, one of the first things he says when he gets up in the morning is, 'We're not going anywhere, are we?' because clearly he wants to be at home where he has got access to the devices."
Parenting websites are full of such stories. If not actually playing Minecraft, parents report that their children watch videos of other people playing it.
The statistics are astounding - one group of Minecraft gamers, Yogscast, based in Bristol, is watched for 37 million minutes every day, and they are not the biggest.
The stars of Minecraft, like "Stampy Longnose" are to this generation of children what John Noakes was to mine, except Blue Peter was only on twice a week, whereas Stampy is viewable all day, every day, a permanent uninvited guest in some households.
Brief history of Minecraft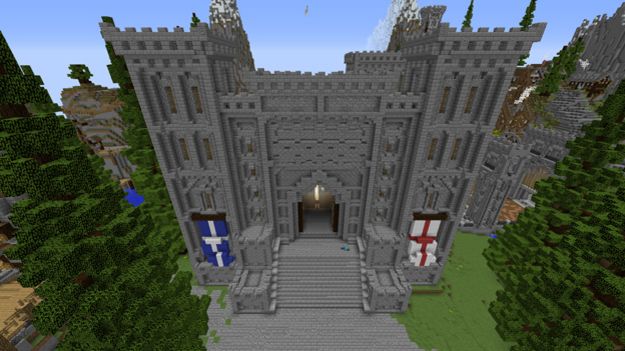 Developed in Sweden by Markus Persson and his company Mojang - officially released in 2011

Company has sold 33 million copies of game in different formats

Bought by Microsoft for $2.5bn (£1.5bn) in September 2014

I hesitate to use the word "addicted", but for some children it seems to fit.
Dr Richard Graham, a consultant child and adolescent psychiatrist who runs a technology addiction unit at the private Nightingale Hospital in London, sees children with a serious Minecraft habit. He talks about the game's "hyper-reality" which he says makes the external world "slower, paler, less stimulating".
My son Joe has his own server, where 20 or so like-minded friends have been creating their own world for the last couple of years. Most of them are in America, and he has never met any of them. Their creations are impressive, but still - is it right for kids to be shunning the real world for this virtual, low-res, blocky universe?
The moves in this argument are as well-rehearsed as a 17th Century gavotte. Minecraft's champions say that it's very creative and that I should just look at the things kids are making on it.
I concede the point but say that it's two-dimensional, and that children should be exercising more than their mouse fingers. The other side asks why it's any worse than reading for hours at a time.
Because, I say, reading allows you to imaginatively inhabit other minds. The opposition implies that this is just the latest moral panic, and that Stone Age elders probably thought the world was going to the dogs when people stopped just staring at the fire and started telling each other stories.
But then there's the "griefing". Because Minecraft is a world with private property but no police force, children are, at least on public servers, in a world that philosopher Thomas Hobbes would have recognised - a state of nature where all are at war with all.
"Griefers" are people who deliberately make trouble, destroy property, and then sometimes post videos of their exploits to amuse everyone.
Even Joe, on his well-ordered server, has had his property stolen by a Russian member. He doesn't know where his stuff went, but suspects it was disposed of in molten lava. When parents think of online bullying, they probably don't think of hard-earned virtual property being trashed, or their children being digitally mugged.

Joe's nine tips to bluff your way in Minecraft:
1. Diamond is the best material for pickaxes because it breaks blocks the fastest and lasts the longest.
2. Players can tame wild wolves by feeding them a few bones, and ocelots with fish.
3. Throwing an enderpearl like a ball allows you to teleport to where it lands.
4. With redstone, you can create complex mechanisms. Some people have even recreated computers.
5. The only blocks in the game which are affected by gravity are sand, gravel, and anvils.
6. Creepers are green creatures which will sneak up behind you and try to blow you up. Skeletons try to shoot you with bows.
7. Cows and sheep can be bred by feeding them wheat, pigs with carrots and chickens with seeds.
8. You can play music to nearby players with a music disc, which are created when a skeleton shoots a creeper.
9. A trapped chest will give off a redstone signal when opened, meaning you can create all sorts of traps to fool your friends.

It was in a bid to deal with griefers that Amanda Osborne set up her own server where her son Callum could play in relative safety. Callum, aged nine, is autistic, and finds it easier to interact with people in the Minecraft world than in the real one.
Now, children with autistic spectrum disorders from around the world are logging on to Amanda's server and making amazing, inspiring creations that impressed even Joe when we paid an online visit.
For some autistic children who have trouble with complex social interactions, Minecraft is clearly a good fit with its lack of intricate social cues and simple environment. But for many parents, the absence of that complexity, in a world where their children spend so much time, might be a reason to be wary.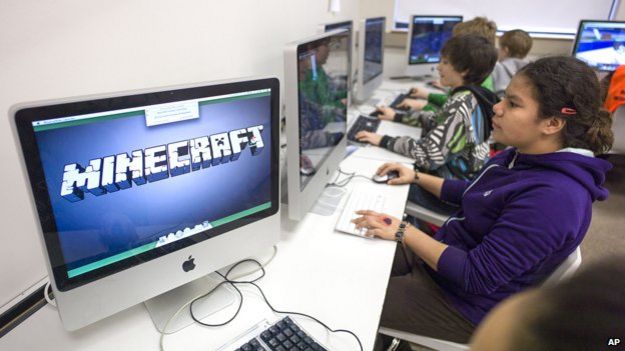 But Minecraft is unstoppable. You might think that at least school provides a few hours of Minecraft-free time a day, but the game is coming to classrooms, as education experts enthuse about its ability to engage and capture the imagination of children who are hard to reach through traditional teaching methods. Even the British Museum is getting volunteers to recreate the building and its exhibits in Minecraft.
Worst of all, Lego has brought out its own Minecraft set. What this means for the next generation of engineers brought up in a world where nothing ever falls over, I dare not imagine.
http://www.bbc.com/
29 Mar 2015
Hello soldiers!
I just realised I am a huge fan of donuts! I've never tried to make any because I thought it was difficult. I was wrong! The recipe below is 100% success if you follow the steps and its an easy one!
Ingredients:
180 ml warm milk

2 ½ tsps. dry active yeast

50 g granulated sugar

2 egg yolks (medium 50g eggs)

1 tsp. vanilla syrup or 1-2 vanilla packets

2 tbsps. (30 g) melted butter

grated zest of 1 orange

330 g all-purpose flour

¼ tsp. coarse salt

sunflower oil, for frying
Chocolate glaze:
1 tbsp. cocoa powder

2 tbsps. caster sugar

1 tbsp. milk
White glaze:
2 tbsps. caster sugar

1 tbsp. milk
Jelly
filling:
½ - 2/3 cup jelly of your choice

caster sugar
Method
In order to make our dough, add the milk, yeast and sugar to a large bowl. Mix until the yeast has dissolved. Let it rest for 5-10 minutes. It should start to froth.

Add the egg yolks, melted butter and vanilla syrup and mix.

Add the grated orange zest and half of the flour. Mix with a spoon to combine. We don't add all of the flour at once so it can dissolve within the mixture properly.

Add the remaining flour and the salt and mix with a spoon as well as possible.

Dust a clean working space with flour. Put flour on your hands and knead the dough for about 5 minutes, until it is smooth and elastic. The mixture should be sticky; this is why we don't add that many eggs. If it's too sticky, put more flour on your hands.

Brush some oil to the interior of a bowl and place the dough inside. Dust with some flour and cover with some plastic wrap. Let it rest at room temperature until it rises. About 1 hour.

Put more flour on your hands so that the dough won't stick to them. Mold into a ball.

Dust some more flour onto the dough and put it back onto the floured working surface. Roll out the dough until it is 1 cm thick.

Roll it out about 3 times to achieve this thickness. Don't overwork it because then our donuts won't be so fluffy.

Cut out the first donut with a floured 5 cm donut cutter or large round circular cookie cutter. Within this circle, cut out a hole in the middle with a smaller round cookie cutter.

Repeat until all the donuts are made. You can make some donuts without a hole in the middle. If you do, you will need a smaller round cookie cutter so that they don't come out so large.

Cover them with a gently with a towel and let them rest for 30 minutes until they rise.

Heat 5 cm of oil, to 175* C (347* F) in a deep frying pan.

Add 4 donuts to the oil at a time. Fry for 1-2 minutes on the first side, until golden brown. Then, turn over and fry for another minute.

Remove from pan, let oil drain and place onto some paper towels to soak up excess oil. Repeat with the rest.

When the donuts have cooled, fill with jelly of your choice. Add the jelly to a piping bag, fitted with a round 0.5-1 cm tip.

You can fill the donuts from the top or the sides. Insert the piping tip into the donut and press until the jelly is released. Repeat with the rest.

If you want to glaze them, combine all of the ingredients for the glaze in a bowl, and pour it over the donuts.
TIP
"Be careful when adding the milk! It should NOT be hot! You can use grated orange zest or whatever other kind of flavoring you like best!! "
I found this recipe here-->
http://akispetretzik...d8-60325a23fe34
It has English too (upper right corner) but in greek you can watch the video,which even if you cant understand, you can see the method especially when kneading the dough.
Here is my attempt in steps:
My dough
Frying my donuts
and....tadaaa!
Enjoy!
28 Mar 2015
Who purchased Battlefield Hardline ? Let us know!
Site Navigation
0 members, 2 visitors and 0 anonymous users
20,747

Total Posts

2,067

Total Members
crusadersofgod Newest Member

98

Most Online
2 users are online (in the past 15 minutes)
0 members, 2 guests, 0 anonymous users (See full list)