Welcome to BATTLE PROS
Register now to gain access to all of our features. Once registered and logged in, you will be able to create topics, post replies to existing threads, give reputation to your fellow members, get your own private messenger, post status updates, manage your profile and so much more. This message will be removed once you have signed in.
Login to Account
Create an Account
Main - Battle Pros Home
We are 2,070 people and we have posted more than 20,853 messages!
Recently discussed forum topics:
Yesterday, 08:29 AM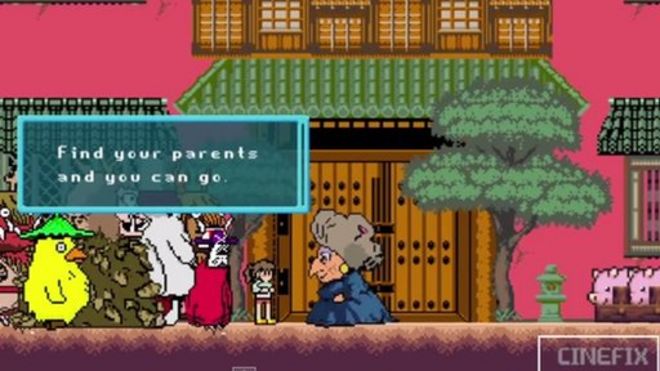 A team which recreates popular movies as 8-bit video games is attracting millions of views on YouTube.
David Dutton from California makes the "old school" arcade-style films for film collective Cinefix.
His four minute version of 2001 Japanese anime movie Spirited Away has attracted nearly 1m views since it was uploaded last month.
Other films to get an "old school" makeover include Titanic, The Avengers and Frozen.
Mr Dutton uses off-the-shelf software Adobe Photoshop and editing software After FX to create the films.
His brother Henry writes the distinctive music and the sound is edited in Adobe Premiere.
"We grew up playing video games in the 80s," said Mr Dutton, who used to direct music videos.
"But we had no background in animation."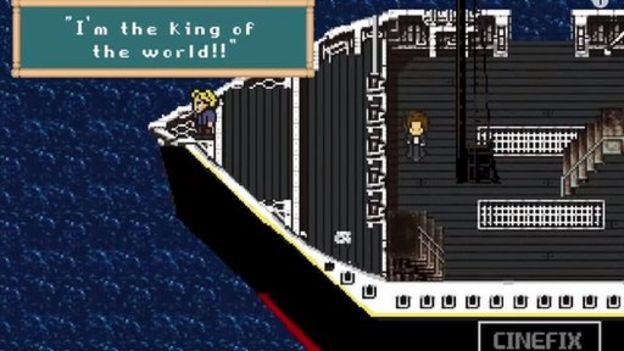 Two years and 45 films later, Mr Dutton's 8-bit cinema efforts are getting a good response from Hollywood itself.
James Gunn, who directed the movie Guardians of the Galaxy, said on Facebook that Mr Dutton's version, released in January, "makes my heart sing", and the producers also claim to have worked with some of the studios directly on remakes.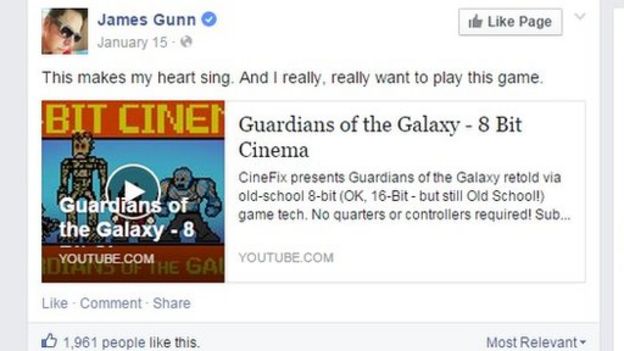 The Cinefix channel says copyright is not an issue because the creations fall under the umbrella of "parody" which is included in the "fair use" clause of US copyright law.
The short video game clips appeal because of a combination of nostalgia and artistic merit, Cinefix lead programmer Michael Cruz told the BBC.
"If I look at Spirited Away - the episode is just gorgeous. In and of itself the artistry is one of the reasons people come back," he said.
In addition to films which readily lend themselves to video game format, such as The Avengers, the team tries to focus on less obvious choices.
"Our favourites tend to be the ones where you don't expect them to be 8-bit video games," said Mr Cruz.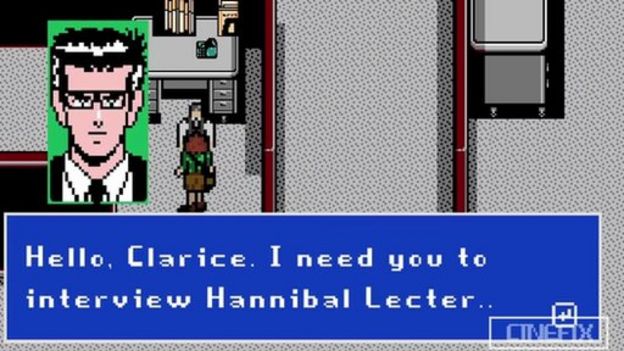 "The Avengers was great but it makes a really easy video game. Whereas Silence of the Lambs is a bit more difficult to do, more fascinating."
Cinefix is owned by digital production firm Whale Rock Industries.
22 May 2015
An optometrist from British Columbia believes he's invented the holy grail of corrective lenses: A device that lets you see "three times better than 20/20 vision" without wearing any contacts or glasses at all — for an entire lifetime.
Dr. Garth Webb is the founder and CEO of Ocumetics Technology Corp, a company dedicated to eliminating glasses and contact lenses forever. Webb and his team of visual scientists have invented the "Ocumetics Bionic Lens," which is the product of eight years of research and $3 million in funding, plus a load of internationally filed patents, according to the Canadian Press.
The Ocumetics Bionic Lens looks like a small button, but Webb believes it has the power to revolutionize eye care as we know it.
"Perfect eyesight should be a human right," Webb told CBC News.
According to Ocumetics' website, the Bionic Lens is implanted in your eye during an eight-minute "painless procedure." The operation is reportedly similar to cataract surgery, where the lens inside your eye is removed and replaced with an artificial lens. It's an outpatient procedure that doesn't require any anesthesia or an overnight stay.
The bionic lens is actually folded like a taco and placed in the eye using a syringe filled with a saline solution. Then, in about 10 seconds, the bionic lens unravels over your eye by itself and your sight is "immediately corrected."
"If you can just barely see the clock at 10 feet, when you get the Bionic Lens, you can see the clock at 30 feet away," Webb said.
Webb says his bionic lenses give you vision that's three times better than 20/20 vision, as measured by the Snellen chart for visual acuity. We've reached out to Webb to learn more about the visual improvements with regards to accuracy and range.
It's still unclear how the technology actually works, but Webb says the Bionic Lens is perfectly safe, and it won't cause any biophysical changes within the eye.
This has other benefits, too. Anyone who gets this bionic lens surgically implanted would never get cataracts, since the eye's natural lenses, which are prone to decay, would have been replaced with these artificial ones. And this is much safer than laser surgery, which involves burning away healthy corneal tissue and also results in other complications, like problems with glare and trouble driving at night. Webb's solution has none of these issues; the quality of your vision will always be perfect, and it will not deteriorate over time.
Webb showed off his bionic lens to 14 top ophthalmologists in mid-April during an annual conference dedicated to cataracts and refractive surgery. He said the surgeons were impressed, and some will assist in future clinical trials.
The bionic lens will first be tested on animals and then blind human eyes before Webb seeks regulatory approval in Canada and other various countries.
The first Ocumetics Bionic Lens could be available as soon as 2017, but it will only be an option for people over the age of 25 since eye structures aren't fully formed until that age.
Read more: http://www.businessi...5#ixzz3asmQdcGH
14 May 2015

On a trip to India, entrepreneur Matt Dalio noticed something about the country's emerging middle class: While many families owned TVs, few could also afford to have a computer. He had an epiphany. Why not make TV screens double as the monitor for a low-cost, but fully-functioning PC?
For the next three years, he worked with a team to develop Endless, a $169 computer designed for the burgeoning middle class in the developing world. It's loaded with around 150 apps—from health and farming to Wikipedia—that can work offline, so if someone has a spotty Wi-Fi connection, they can keep working.



"Internet connectivity is unreliable and expensive in the developing world," says Matt Dalio, CEO and chief of product at Endless. "Unfortunately, most information is available only via the Internet, so we built an app ecosystem and loaded it with apps for health, wellness, education, small business, and personal finance so that people will have access to the information no matter what their Internet conditions."
The computer is simple to use and update even if someone has never had similar technology. One beta tester, a Guatemalan woman who runs a small business making tortillas in her kitchen, says that she thought that the computer would just be something that her kids would use—but she quickly realized that it could be useful for tracking her own finances.
Unlike some similar products, like the frequently criticized One Laptop Per Child, Endless was apparently designed in closer and deeper contact with the people who will use it. "One Laptop Per Child was an amazing idea with a flawed product and business model," Dalio says. "The product they produced was rushed to market, hard to operate both physically and from a software perspective and not designed with their target end-user."


Since the startup is targeting the emerging middle class, that means it can also avoid some of the challenges of designing a product for those living in extreme poverty, like lack of electricity. Endless's customers will have access to outlets (even if that power might sometimes be intermittent). And they'll also have TVs. In Mexico, the startup's first market, around 95% of the population owns at least one television.
The business model is also different than something like One Laptop Per Child; Endless won't rely on donations. Instead, it's aimed at customers who have a little extra money, but not enough to buy a typical computer. "We are not a social enterprise," he says. "We operate just like any business would, on the premise that if we can build a life-changing product, a lot of people will buy it. Our intention is to change a lot of lives with that product and business model."
https://youtu.be/grFlhYHYvd8
12 May 2015
William Hurt, Katherine Parkinson and Colin Morgan are set to star in a new science fiction drama co-created by Channel 4 and American network AMC (the network behind Breaking Bad and Mad Men).
Humans, written by Spooks scribes Sam Vincent and Jonathan Brackley, examines a "parallel present" where humanity is dependent on advanced robot slaves (called "synths") leading to dire consequences for a family who unwittingly buy a rogue model.
Oscar-winner William Hurt (Kiss of the Spider Woman) stars as George, a widower with an oddly close relationship with his synth, while The IT Crowd's Katherine Parkinson will play a lawyer haunted by demons whose husband (Tom Goodman Hill) buys a synth (played by Fresh Meat's Gemma Chan) that may be more than it seems.
Rounding out the cast are Merlin's Colin Morgan as Leo, a man looking for someone from his past, Bafta-winning Lewis and The Thick of It star Rebecca Front as an NHS synth, and Utopia's Neil Maskell as police officer DS Peter Drummond.
Based on the award-winning Swedish drama Real Humans, the series was first announced as an Xbox and Channel 4 co-production back in April. But thanks to the closure of Xbox Entertainment Studios last summer, it looks like AMC have signed up instead with Humans currently filming for a 2015 release date on both networks. Watch a trailer for the original series below.
11 May 2015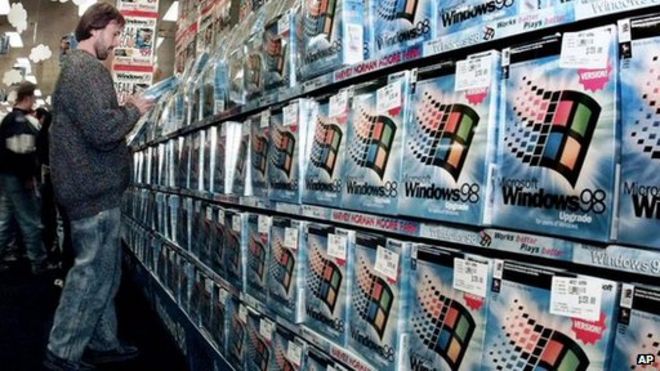 Windows 10 is going to be the last major revision of the operating system.
Jerry Nixon, a Microsoft development executive, said in a conference speech this week that Windows 10 would be the "last version" of the dominant desktop software.
His comments were echoed by Microsoft which said it would update Windows in future in an "ongoing manner".
Instead of new stand-alone versions, Windows 10 would be improved in regular instalments, the firm said.
Mr Nixon made his comments during Microsoft's Ignite conference held in Chicago this week.
In a statement, Microsoft said Mr Nixon's comments reflected a change in the way that it made its software.
"Windows will be delivered as a service bringing new innovations and updates in an ongoing manner," it said, adding that it expected there to be a "long future" for Windows.
'No Windows 11'
The company said it had yet to decide on what to call the operating system beyond Windows 10.
"There will be no Windows 11," warned Steve Kleynhans, a research vice-president at analyst firm Gartner who monitors Microsoft.
He said Microsoft had in the past deliberately avoided using the name "Windows 9" and instead chose Windows 10 as a way to signify a break with a past which involved successive stand-alone versions of the operating system.
However, he said, working in that way had created many problems for Microsoft and its customers.
"Every three years or so Microsoft would sit down and create 'the next great OS'," he said.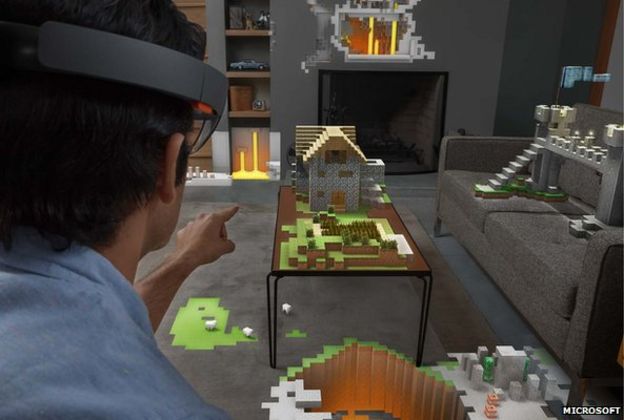 "The developers would be locked away and out would pop a product based on what the world wanted three years ago."
Microsoft also had to spend a huge amount of money and marketing muscle to convince people that they needed this new version, and that it was better than anything that had come before, he explained.
Moving to a situation in which Windows is a constantly updated service will break out of this cycle, and let Microsoft tinker more with the software to test new features and see how customers like them, he added.
'Positive step'
Most of the revenue generated by Windows for Microsoft came from sales of new PCs and this was unlikely to be affected by the change, Mr Kleynhans pointed out.
"Overall this is a positive step, but it does have some risks," he said.
"Microsoft will have to work hard to keep generating updates and new features, he said, adding that questions still remained about how corporate customers would adapt to the change and how Microsoft would provide support.
"It doesn't mean that Windows is frozen and will never move forward again," Mr Kleynhans told the BBC.
"Indeed we are about to see the opposite, with the speed of Windows updates shifting into high gear."
Site Navigation
0 members, 3 visitors and 0 anonymous users
20,853

Total Posts

2,070

Total Members
RestlessZombi Newest Member

98

Most Online
3 users are online (in the past 15 minutes)
0 members, 3 guests, 0 anonymous users (See full list)